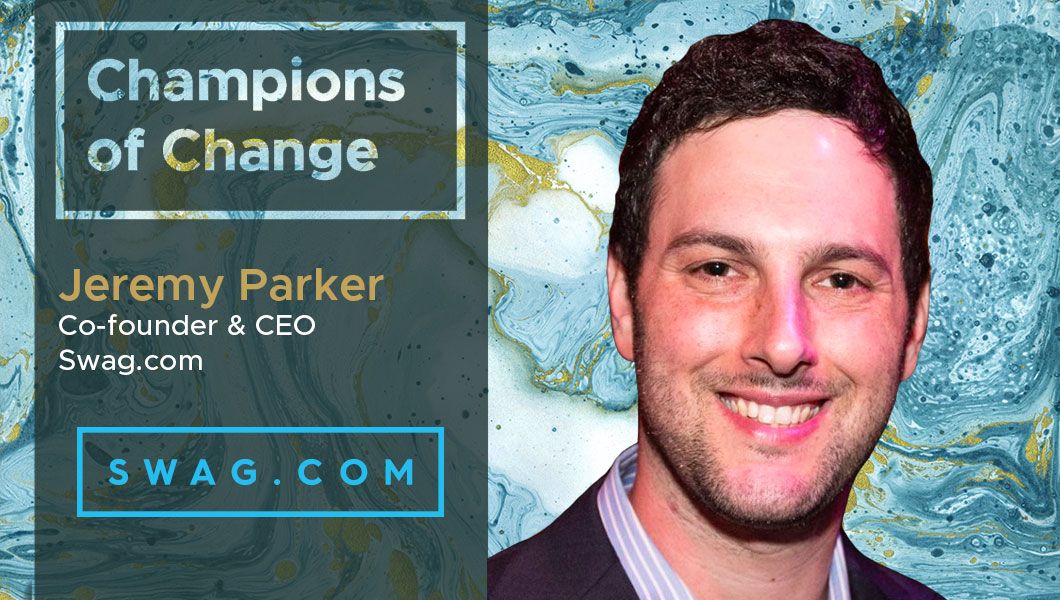 In this interview, Jeremy Parker, CEO and co-founder at Swag.com, discusses digital transformation in sales, the change brought about by on-demand printing, and their plans to automate marketing. Before Swag.com, Jeremy ran a creative division under MV Sport, one of the largest players in the promotional product space
TDE: Thank you so much for taking our questions! Tell us a little about your business and its history?
Jeremy Parker: We started Swag.com in early 2016 to be the best place for companies to buy quality promotional products. We realized that the promotional product industry was littered with companies that offered throwaway products.  Products that would end up in the trash, costing the company money and tarnishing their brand.  So we set out to curate the best of what's out there and only offer products that we would use.  Over 95% of the products we tested didn't make the cut.  We also wanted to make the buying experience completely automated.  It now takes a few minutes to do what used to take hours. Since we launched, we have helped thousands of companies including Facebook, Google, WeWork, Harry's, Starbucks and Netflix. We have grown by 300% over the years.
TDE: What are your thoughts on the current pace of digital transformation in your industry? Do you feel overwhelmed with the prospect of introducing technology solutions to manage & streamline parts of your business?
Jeremy Parker: Our industry is still insanely old, broken and fragmented.  Sales are happening through 40+ back and forth email chains, catalogs, and presentation decks. We are a tech first company. During our first year of business, we handled all of the orders manually, the old school way. We were trying to learn everything we could about the pain points of our customers and the inefficiencies of the process.  After a year of doing this, we started to develop the platform based on what our customers needed. We are now able to streamline and automate the process and help customers create quality swag that they'll love.
TDE: What is the one technology trend within your industry that cannot be ignored?
Jeremy Parker: On-demand printing!  Instead of buying in bulk, you buy one at a time.  It helps customers who don't need or want 24 t-shirts, they want a couple. It makes a lot of sense on the surface, but it does have its downsides. The print quality is not there yet, and it is very expensive. We don't recommend our business customers, who obviously care a tremendous amount on their brand, to use on-demand printing. But we are constantly testing the newest technologies and are very open to the shift.
TDE: What has been the most significant technology integration/implementation so far, at your organization? Why? (could have impacted your employee efficiency, customer satisfaction, profit margins etc.)
Jeremy Parker: A big part of our industry is the difficulty in pricing. Price is based on the quantity that you are buying, how many print locations and the number of colors in the print. This dynamic pricing is hard to automate. Now add a layer of complexity when it comes to figuring out the number of colors in a customer's design, and then add another layer of difficulty in figuring out the Pantone of these colors.  Coca Cola Red is very different than Target Red. So we developed Patent Pending color detection software, that allows us to detect not only how many printable colors are in the design, but also the nearest Pantone match. This has allowed us to streamline the process and save hours of back and forth operational issues.
TDE: Do you have a dedicated in-house IT team? What are some of the challenges your IT team and employees faced before, during and after bringing in this solution? How did you resolve them?
Jeremy Parker: We have a dedicated in-house 11 person IT team.  They have built us a platform that is able to handle an unlimited number of orders a day and really scale. When we were handling orders manually everything took a lot more time. It took twenty minutes just to figure out a quote for a customer, and if they decided that they wanted 100 less, it would take more time. If the customer wanted to see how less the cost would be for a 1 color print instead of their 4 color logos, it took more time.  Building our site has removed these time constraints and allowed us to really grow.
TDE: What's the internal technology challenge your organization aims to resolve in the immediate future? (could be internal workflow/workforce automation or having internal operations such as CRM, HR, Inventory powered by front end mobile apps)  
Jeremy Parker: We are currently working on some major improvements to our CRM and our marketing automation. We want to be sure we are on top of all leads. We are focusing on turning them into customers and getting our customers to order more with us. We are also growing.  So we need to build a scalable process for all new employees to be able to dive right into.
TDE: From an external viewpoint are you considering using mobility solutions/mobile apps to promote/sell your products online, or to promote/sell your products to your dealers and allow them to order online?
Jeremy Parker: We have made our site mobile friendly, but we are not looking to build a mobile app at this point. We have seen that 30% of our customers like to view our products on the phone, but very few ever place an order through the mobile experience.  The reason is, most companies don't have their hi-res company logos on their phone, the mockup process is more difficult and harder to see on a small screen, and the average order is around $1,200. Our customers want to make sure everything is perfect before they place an order.  So they like to browse on mobile, but they ultimately end up purchasing on their computer.
TDE: How do you keep yourself updated? What are some of the websites or magazines or apps that you subscribe to or read regularly?  
Jeremy Parker: I am constantly reading industry trade magazines – Promo Marketing and ASI, but I am obsessed with what's new in terms of marketing and branding.  Our goal is not only to build the best platform in the industry but also to build the best brand.  I'm a big fan of Seth Godin's blog.
TDE: What's your favorite social network – Instagram, Facebook, LinkedIn or Twitter? 
Jeremy Parker: For our business, Instagram and Linkedin have been the most impactful! Swag is all about the visual, so showing off past work we have done on Instagram, has given customers the confidence to work with us.  Also, LinkedIn has been super powerful because we have been able to target specific job titles.  We have seen that Office Managers, Marketing teams, People Ops have been our best customers.  So having a place where we can find them and engage has been really helpful.
For more DX insights follow Jeremy Parker on LinkedIn.
Related
Our Digital Disruptors