The Crazy Day my Phone Went to Naples without Me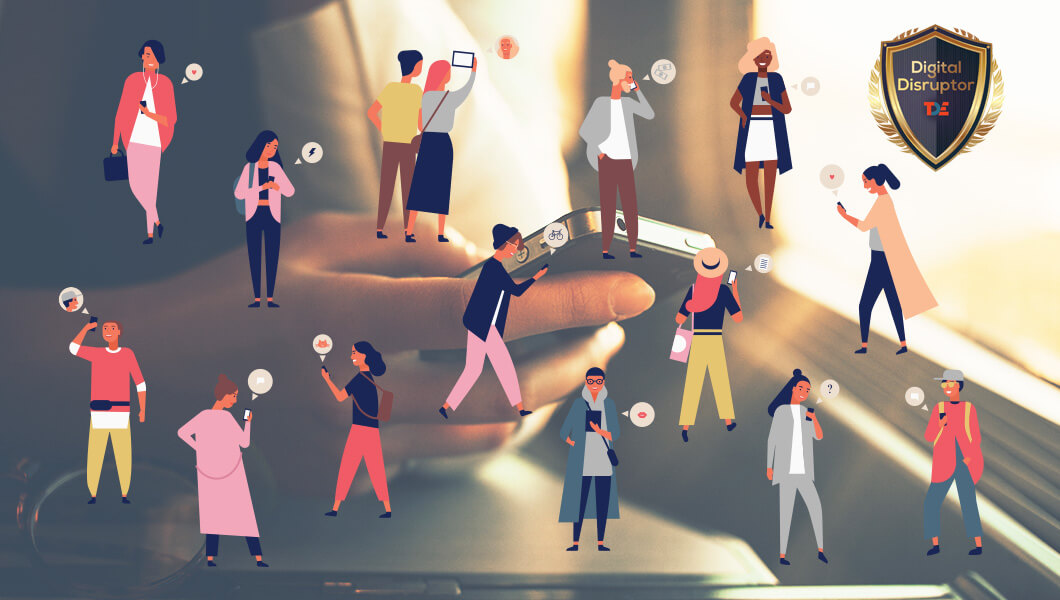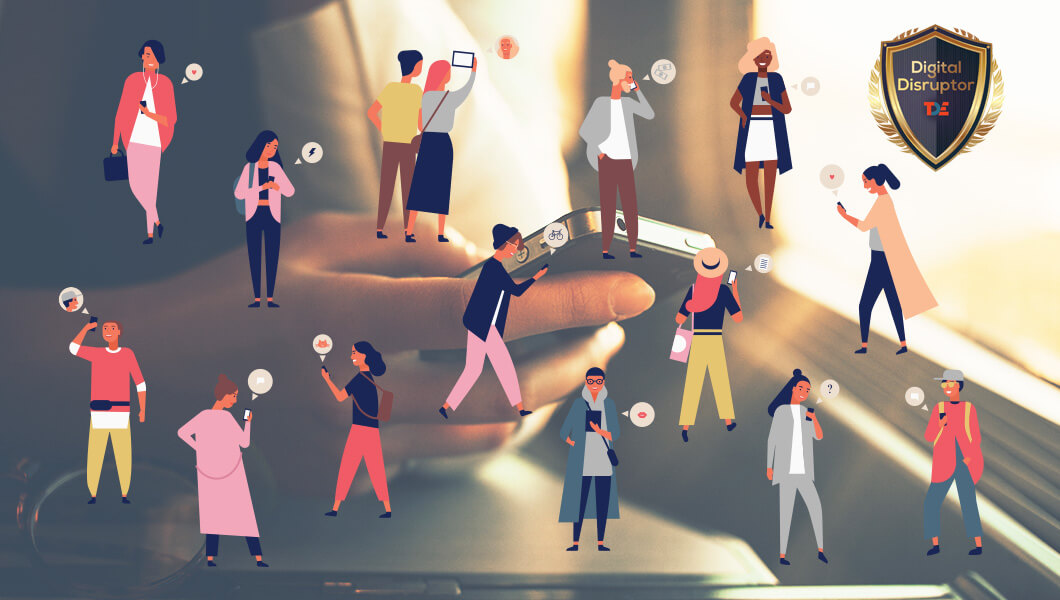 Recounting a human experience, over a device made from glass, Joanne Moretti, Founder and CEO at JCurve Digital, explores how a chance disconnection from tech for a while opened her up to paying attention to her surroundings. Possibly a healthy break over the holidays is not so bad after all...
Just how attached to our smartphones are we really? And, how long can you survive without yours? Well, an interesting thing happened to me on the way to a client visit last week in Italy...
Before I start the story of my smartphones' excellent adventure, let me give you some context.
As of October 31, 2018, I, Giovanna (Joanne) Moretti, retired from "big-company, corporate life" after 30-plus years of Sales, Marketing and Product Management roles, "Freedom 55" mission accomplished. Even though I studied Computer Science and learned how to code in Assembler and Cobol in school, I decided I needed to have much more human contact and my path led me into software Pre-sales, then Sales and then Marketing.
Well, you can imagine after holding a variety of exciting roles at some very extraordinary companies, sitting around at home twiddling my thumbs was probably not going to last long.
It didn't, so, I decided to combine my business knowhow, problem-solving skills, creativity and passion to help others through my own boutique consultancy called JCurve Digital. We focus on helping companies align the high-speed pace of innovation to the somewhat slower speed of commercialization, thus helping business leaders meet expected ROI on innovation investments in a timely fashion. We do this through a unique approach called "integrated commercial excellence". In any event, I'm keeping very busy helping half-a-dozen companies that are focused on digital transformation, who also realize commercialization must keep pace with innovation, or their great ideas will end up in a "stock pile".
One such company I've been fortunate enough to get connected with is a fintech startup, based in Milan, Italy, in the heart of the design district – Epiphany. Epiphany was founded a few years ago through / with a visionary investor Edoardo ("Eddy") Moretti and through / with 20-plus years of sweat equity and hard work in the financial services sector put forth by the genius software architect Paolo Spadafora.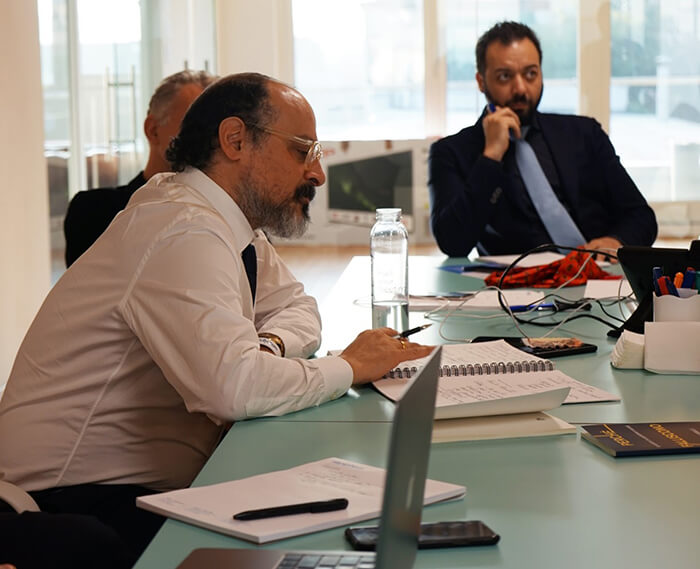 Edoardo ("Eddy") Moretti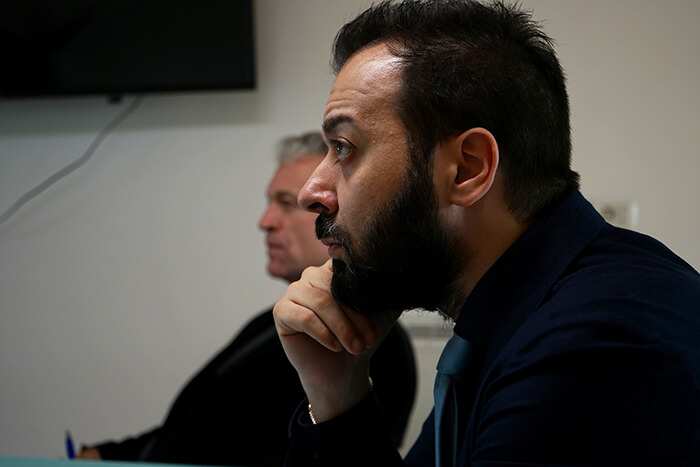 Paolo Spadafora
"Genius" is by no means an exaggeration, in fact it may be an understatement. If software design and development were compared to art, Paolo would rank right up there with Canaletto, given his incredible level of detail in his work yet the ability to hide immense amounts of complexity in / through his software designs. Paolo is a shy and humble software engineer with a long and distinguished list of successful projects in the European banking sector. Many of his projects are well-known throughout Europe, but the project that has won him the most recognition across the continent is by far the "MyBank" payment application. Today a payment / banking standard, MyBank is an e-authorization solution, which enables safe digital payments and identity authentication through a consumer's own online banking portal or mobile application versus using a credit card. Banking security and the user experience are central in the design per Paolo, and hence the widespread adoption.
That's a heck of a lot of context, but important for you to understand, the place, personas and circumstances surrounding this very special day my phone traveled to Naples, Italy – without me!
Paolo and I set out on a very fast "express train" that hit speeds of 250-300km per hour . This train set out from Milan, hitting a variety of towns on the way to Naples. The town we were disembarking at was a spectacular city just south of Milan, but well before Naples. We set up our laptops on the tray tables, and decided to review the presentation one more time, to go through Paolo's key talking points. I'm no stranger to how important it is to prepare engineers to have business conversations and likewise how seriously engineers take details. So, I put the laptop on the tray table, and did something I rarely do – put my cell phone on my lap. Well, not really feeling the speed we were traveling at, we arrived at our destination in no time. In my rush to pack up my laptop and power cord, as well as put my coat back on, my cell phone must have slipped from my lap on to the seat. Paolo was standing at the exit door, signaling me to "Hurry, the train is going to roll out of the station in 2 minutes!"
We had about an hour before our client meeting, so of course that gave us time to have an espresso. We stopped at the cafe on ground level of the station, and planned to do one final review as we got revved up on some dark-roasted, supercharged coffee and a sugar-coated cannolo just for an extra boost. As I waited for Paolo to bring us back the coffees, I decided to check the weather in Dallas, take a peek at where my family was situated through my "Find Friends" app, and tweet out my excellent adventure on this supersonic train ride, with the picture as my proof point. Digging into my laptop bag in all the usual places/pockets and not finding it, I went for my coat pockets... nada, no phone was coming into contact with my hand. This time, I pulled up my laptop bag, opened it all the way and searched each pocket and compartment more carefully... still nada. This time, both hands into both pockets simultaneously, but again, nothing. Paolo already knew what was happening, looked at me and said, "I'm so sorry, the train...", we both said, "the damn train", at that point.
Suffice to say, Paolo felt terrible for rushing me off the train, but he was right to do so, it literally started rolling after I stepped off. Now time was running short, and we had to meet our colleagues, who were driving in from another town in Italy, for our client visit. And, I had to take a deep breath and put the lost phone out of my head in order to focus on helping Paolo articulate his value proposition.
The meeting was a success, and the customer agreed to some substantial next steps with us. Now a small group of us would go on to enjoy a beautiful lunch together in a quaint restaurant built inside what looked like an old cottage, surrounded by the most beautiful garden ever. Reminded me of images I had while reading the "Secret Garden" back in 5th grade. Certainly, I'd share pictures of this garden for my entire family to see on Facebook, but I reminded myself, I didn't have my phone with me!
In retrospect, I was amazed at how much I noticed about the garden and the restaurant, and the people there, not to mention the meal itself. Everything seemed so perfect, the sun was bright and the sky so blue. If it were warmer outside, I would have asked to be seated outside to have our meal in the garden, just to take in the lovely scene, the colors, the conversation and the delicious smells, all in unison.
We sat for a good 90 minutes enjoying our lunch, we all offered each other a taste of our dishes, and we chatted with the people next to us. Some were discussing work and next steps, while others talked about their families and kids. At least twice I wanted to share Victoria's graduation pictures, but that wasn't going to happen. It was a phoneless 90 minutes for me, which really gave me an opportunity to take it all in – even the ribbing I was getting for losing the phone.
Just prior to the final espresso being served, I took the opportunity to borrow Paolo's phone, step away and call my number to see if someone would answer. Much to my surprise and joy, a woman answered the phone and said "Ciao, ciao, chi parla?" (Hello, hello who is speaking?). I mustered up my best Italian and explained who I was and what had happened.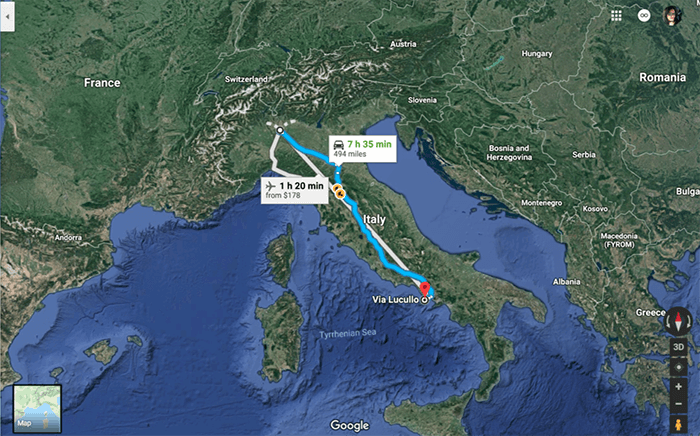 Joanne's phone being tracked 500 miles away in Naples!
She explained she found the phone, on the seat of the train, on her way to Naples! Naples, some 500 miles away! I expressed to her how happy and grateful I was that she found it. We then proceeded to talk for the next 5 minutes about how addicted we are to these phones, and how much she would utterly die if she lost hers. We talked about where she lived, her 11-year-old son, and how she was getting ready to move. A fully packed conversation within 5 minutes! At the end of the conversation, she empathized with me deeply, and expressed again, how much she understood what I was going through, and how she would make sure to be present for the courier if I gave her an approximate time of pickup. I indicated I would text her with that information and thanked her for the next 2 minutes, for her kindness and understanding. Real understanding…, like saying the words before I could finish my sentence kind of understanding.
Such a human experience, over a device made from glass, with some circuit boards, a camera, some buttons and some software running on it – being lost! From breathing in the fresh air at the restaurant, and really taking in the conversation, the sights and sounds and smells, to not reaching for my phone to peek at it during lunch, to having this empathetic human being talk to me through this drama and helping a perfect stranger feel better, and less stupid. It was all so humanizing. I loved it, and my love for my parent's homeland and the people there, all reinforced.
A few lessons from all of this:
First and foremost, it was good not to have my phone glued to my hand for a day and a half, and to enjoy a human experience "sans technology" and without snapping pictures of everything or Instagram-hash-tagging each part of the experience, but instead recording the memories of the breathtaking cottage and garden, the meal, the people and the wonderful smells in my memory.
Technology serves human beings not the other way around!
And, technology can be used for good, and brings people together. Like two perfect strangers or best friends and especially family members who have moved away from each other.
Finally, technology in and of itself is not enough. The experience using it, and / or the experience it is enabling is what's important. I guess that explains why, over 95% of CEOs recently surveyed, put customers and the customer experience, over technology, on their priority list.
All that said, it was good to be fully human and independent of technology for a while, and it was good my phone went to Naples without me.
Joanne or Giovanna… whatever you prefer.
Ciao!
P.S: Oh what the heck, here are some pictures from this awesome trip: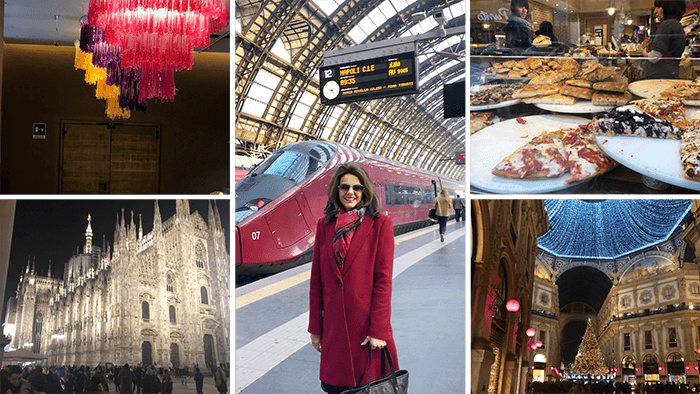 This article was originally published by the author on LinkedIn Pulse.
Related
Our Digital Disruptors