How Digital Transformation Brought Mobility to our Field Force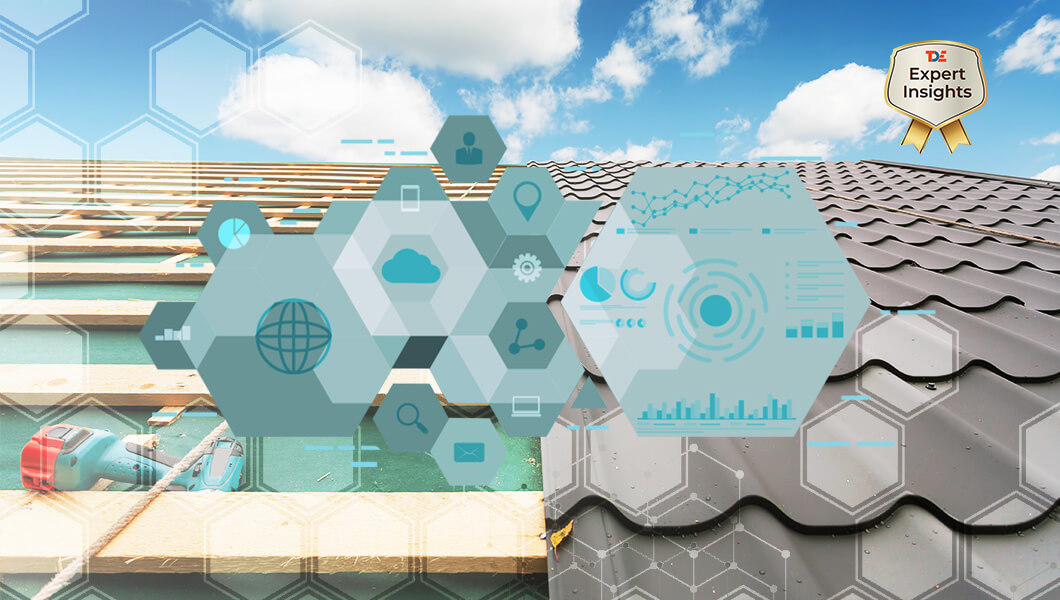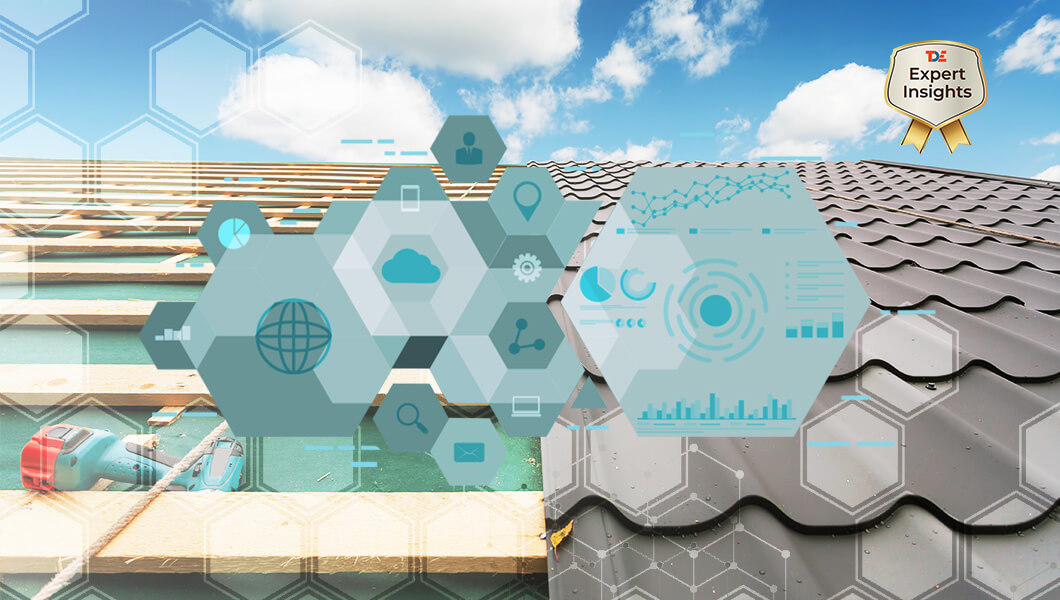 Richard Radobenko, President & CEO at Roofing Southwest, providers of roofing solutions to businesses and homeowners, shares the challenges and successes the company faced in the digital transformation of their operations to ensure mobility and real-time data access
The metal roofing sector is known to be slow to adopt innovations in process management, besides being plagued with lack of structured systems to streamline repetitive tasks of design and construction, uncoordinated teams working at multiple sites and lack of integrated project planning.
There's also a growing need in this sector to fix the basics – namely unsophisticated supply chain processes and enhanced worker safety to create a feeling of competitive advantage amongst employees. Realizing a dire need to embrace new technologies, and go for a digital overhaul for improving productivity and enhancing customer experience, we initiated a project to bring our operations onto a mobile platform.
Planning the Digital Transformation
A mobile-friendly field service app was developed to provide consistent access with a refined interface and targeted workflow, regardless of connectivity. The app offered mobile timekeeping, real-time cost coding, geo-location of workers and issue logging and tracking. As front-line users of this app, project managers and foremen could change the way they inspected time and material tracking, security breaches, productivity measurement and incident reporting. They were able to reduce the wait time and facilitate real-time collaboration to connect engineers across all levels and various locations of the organization.
Our aim to have a robust digital, mobile and cloud-based operations interface for employees with a seamless, real-time access to data and information was achieved by partnering with HokuApps, the technology platform that lets businesses build technology solutions incredibly fast. They helped us with our needs assessment, requirements gathering and complete development process.
Summarizing the project brings to mind the tenets Everett Rogers's 'Theory of the Diffusion of Innovation' (1965), which had first highlighted the characteristics of a successful adoption of innovation:
From Paper to Digital
Process digitization meant capturing data that paper could not. Manual collection of data meant much of the information was stored on paper, in folders labeled for each client. And, field workers were tasked with filing crucial information and send it to headquarters, which at times, took several weeks. With the mobility solution in place, engineers and field executives have answers to the customer's needs in minutes, as the digital solution fits really well with what is required.
The newly developed app moves away from paper, ensuring a cloud-based, mobile-enabled field-supervision platform. Thanks to the availability of low-cost mobile connectivity, real-time sharing of information is a possibility now, ensuring transparency and collaboration, timely progress and risk assessments, quality control, and, thereby, better and more reliable outcomes, even at remote project sites. Besides, to encourage app usage, there was always an emphasis on simplicity and "foreman friendliness" during the app design stages.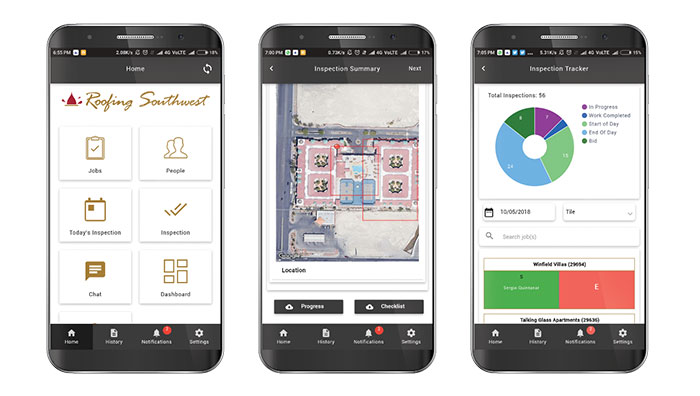 (l to r): The apps dashboard as it appears to a user; a visual of the screen when a particular inspection is selected; the inspection tracker as seen by a project manager
Assimilating the Disruption
Clearing many hurdles and pulling out all stops, the digital transformation project has been a resounding success! Here are some of the key takeaways for organizations taking up digital transformation:
Whether it's deploying new software for one department or designing a new portal for customers, often organizations take a haphazard approach to bringing in additional innovation. Hence, top management needs to step in at every point to weigh in on the necessity of the digital change and its effects on organizational capabilities. We had continuous and wide-ranging conversations with employees to ensure their buy-ins for a successful digital integration.
Successful adoption of innovation is when employee change management is taken up simultaneously. For any digital transformation initiative to succeed, it is crucial for organizations to pay attention to the success factors as well as the potential pitfalls, which could derail it. We paid close attention to communicating well and often with stakeholders, and addressing any concerns that came up among our users at the time of building this digital platform.
Design and development must follow only after consultation and requirements-gathering process. Luckily, we had a good round of mockups, initial builds and testing to identify, assess and anticipate potential problems and technical glitches to achieve a level of stability and comfort.
Many organizations may have employees, who do not have a technical background or have very basic levels of education. In such set-ups, careful considerations must be made about their comfort with using technology, providing substantial exposure to ensure a thorough learning process to adopt the software, while also building an easy-to-comprehend application. Also, organizations must support, encourage and incentivize employees as they achieve higher levels of competency in using the various tools deployed.It's important that businesses spend a considerable amount of time in designing a system, which is both, user-friendly and intuitive, while being easy-to-learn for ground-level executives. Work with a vendor, who can design your solution keeping UI/UX (user interaction and user experience in mind) just like HokuApps helped us to ensure this. Design and functionality are important factors, which ensure enterprise-wide adoption, especially in cases where workers are not necessarily adept at using technology.
It's important for organizations to involve the users of enterprise applications and software right from the start. Our executives were able to try the mobile applications as work was in progress, and provide feedback about the overall user experience and any problem or bugs that they thought needed to be fixed. You need to have good vendor support, so that technical glitches are resolved fairly quickly.
Last but not the least, at the end of perhaps an arduous transformation process, the leadership and employees must get together to celebrate this transformation.
Businesses today, need to be digital and mobile to be in the reckoning. For our roofing company, innovating to bring our business onto a digital platform was necessary, as we could see the potential efficiencies and the possibility of scaling our business. Already now, we are able to communicate instantly, and store and access data from the cloud within seconds.
The immediate positive impact of our mobility innovation to operations is evident from the noticeable excitement and energy amongst our employees. For instance, earlier it would take days for us to get an official hazard report, whereas now it's instantaneous, as soon as our field associates complete the form and upload to the cloud server. All the documents are accessible to decision-makers at multiple locations, be it the main headquarters or elsewhere. Leveraging this digital platform helps us stay competitive and achieve our business goals at a faster pace.
Once you take up the challenge of bringing in mobility into your operations, numerous other possibilities open up, and it's important to keep an eye out for the potential for reinvention of every process. Now, we are set for adding mobility solutions to a number of other existing and new functionalities, which could really help us to achieve exponential leaps in productivity, efficiency and quality of service.
Even so, it's important to keep in mind that not every digital initiative will work for every organization. Capability and capacity assessment is crucial before executing a digital strategy. The more holistic the initiative, the greater the chance of success!
customer experience
field service app
geo-location
HokuApps
incident reporting
issue logging
issue tracking
low-cost mobile connectivity
material tracking
mobile timekeeping
mobility
process management
productivity measurement
real-time cost coding
real-time data
roofing solutions
Roofing Southwest
security breach
supply chain processes
UI/UX
Cloud Apps & Mobile Solutions
DX Management
Related
Our Digital Disruptors