Marketing in the Digital Age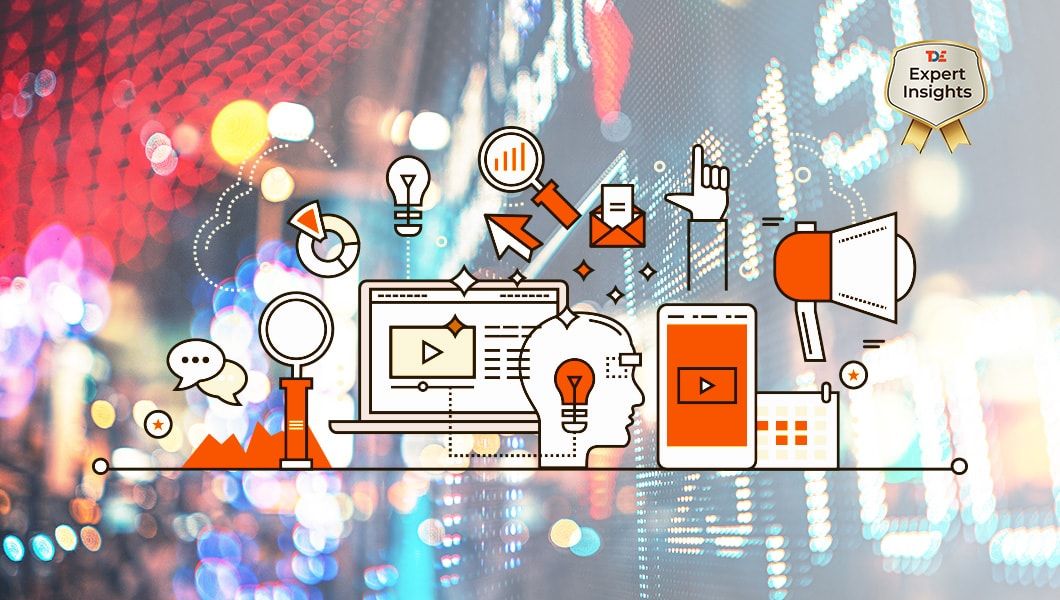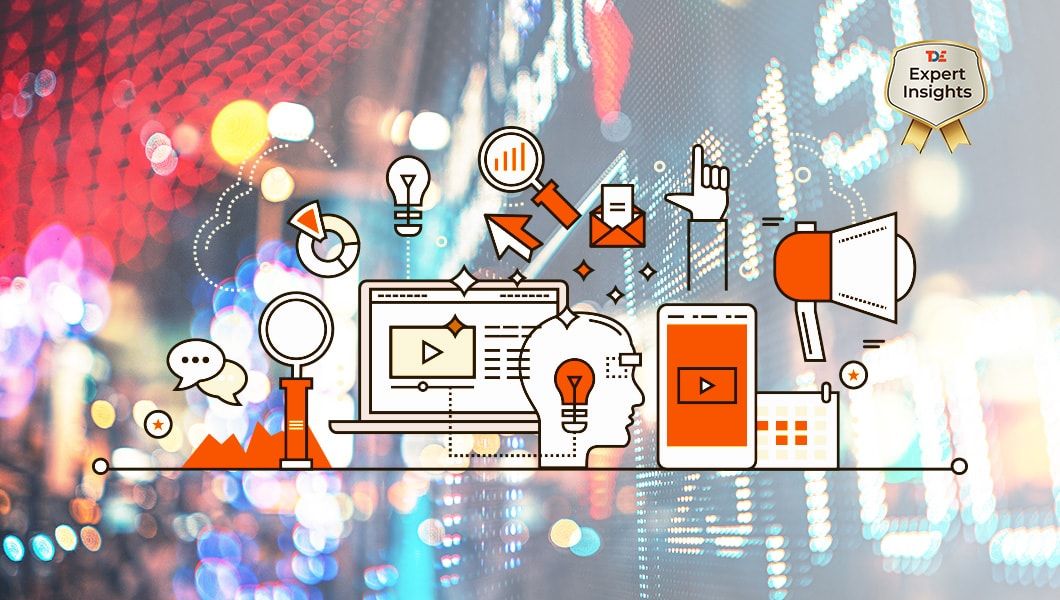 Marketing is heavily dependent on digital technologies today, with automation, Big Data and AI aiding every move to target customers. Yet, at the core, a marketer's skill has always been the ability to connect and interact with customers. Gaurav Bhatia, Chief Digital Officer at NewDay USA, simplifies the musts to enhance this interface between the brand and the buyer and the components of a successful team to drive this
The world has evolved and so has customer behavior – hence the need to drive the shift in marketing paradigm as well. Today, many people prefer taking an Uber/Lyft for transportation as opposed to hailing a cab. Brands are also evolving and trying to accelerate how they engage with customers at a much faster pace than they have in the past. In this fast-paced age of digital – with jargons like marketing technology, mobile, Big Data, cloud, artificial intelligence and social media – the basic marketing concept is still the same: brands still need to interact with their customers. What has changed is "how" they interact?
Today, we have the luxury of designing omni-channel customer-centric experiences, measuring performance, leveraging "just in time" marketing or you can call it "trigger marketing" to help reach our target audiences quite easily. The question is how do organizations adapt to engage with the digitally savvy customer?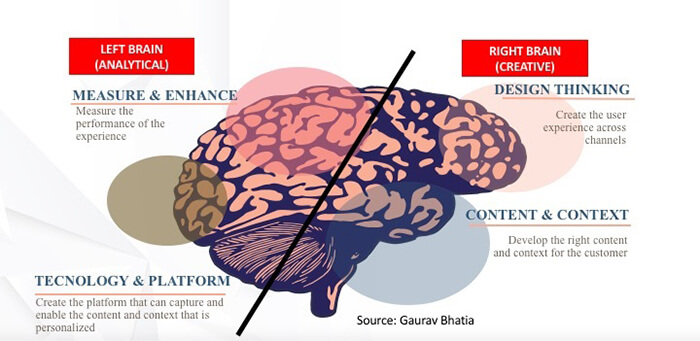 A representation of how the creative and analytical aspects of marketing need to sync up
Organizations have debated and waited a long time to consider this digital evolution as a "fad" hoping that it will not be as pervasive and it will come back to business as usual. That has not happened and may never happen. When Henry Ford invented the car, people stopped caring about faster horses. They jumped on this new form of transportation. The same is true today – the new form of transportation is digital (which, by the way, has been around for a decade but is now more commonly used unlike before).
Some organizations have done a great job at being at the forefront of this shift. Most organizations are still learning and some are trying to figure it out. Based on where the organization is in the spectrum there is a need to evaluate the business model, customer experience and brand interaction.
Based on my experience, we marketers and digital natives have the advantages of real time information, tools and technology. We can develop digital experiences for our customers that are relevant, personalized and targeted to their needs. If brands can do that successfully it will be a win-win for brands and consumers.
As we look to market in this digital age, we need to evolve our marketing and consider a few aspects that I call principles and are listed below: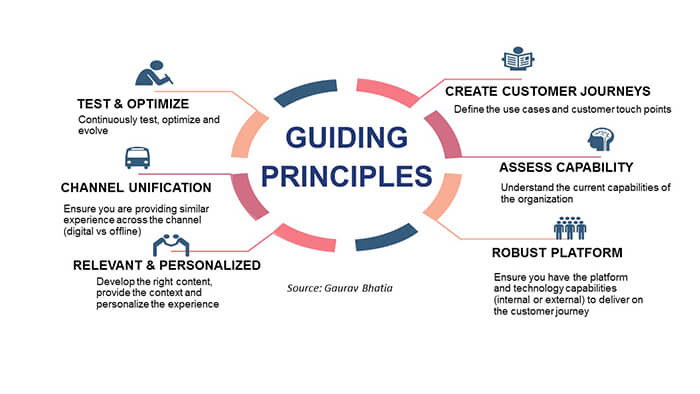 Guiding principles to ace digital marketing in today's times
Few things to consider as you look to evolve your digital marketing experience:
Create Customer Journeys: Define use cases and customer journeys for all the touch points the customer has with your brand, be it in the digital (web, social, e-mail, mobile), call center or retail experience. It is important to understand the full journey since it will help you design the complete experience from the customer lens versus the organization lens.
Assess Capability: Understand how the organization is structured especially marketing, brand, digital, data, technology and customer service. Evaluate the maturity of the business and understand the gaps that exist in knowledge sharing, digital capability and data sophistication within the organization. If there are significant gaps ensure you are filling in the gaps as you evolve your marketing function.
Invest in a Robust Platform: Investing in the right marketing platform that integrates the  marketing technology stack, has a robust analytics capability, integrates with your customer data and marketing channels – offline and online is important. This will be important for providing a holistic view of customer experience, behaviors and performance across the customer journey. This will allow marketers to base their decisions in real time and evolve the tactics in a timely manner. The needs of the customers are going to be slightly different based on the industry segment you serve. Eventually, a robust platform will help make the marketing function more data-driven and will be able to adapt to the evolving multi-channel, programmatic buying and real-time marketing operations.
Test and Optimize: Testing in real time allows us to see what is working and what needs additional work. Continuously testing our marketing messages, call to actions, media channels and providing the right information to the customers helps support growth. Testing will validate the hypothesis and allow us to take corrective action in a timely manner.
Focus on Channel Unification: Having a multi-channel approach and integrating the experience across all channels – television, direct mail, e-mail, web, social, mobile, retail, call center – allows for a full view of the customer interaction. This will enable us to make decisions taking into account the customer needs as a whole versus focusing on channel approach. Sophisticated marketing programs need to change the approach from being channel-centric to being customer-centric.
Relevant and Personalized: Developing right content, providing right context and personalizing is going to help create a digital experience that meets the needs of the customer. Today, marketers can leverage marketing technology and programmatic media to achieve the results in a short timeframe. Automation and Artificial Intelligence (AI) will further enhance the ecosystem and help increase the brand's relevance with the customer.
Right Team Structure 
Marketing today, is a blend of brand, strategy, experience, technology, data, analytics and real time execution. Today's marketing organization needs to be nimble, be cross-functional. The team should be able to support customer experiences and campaigns across all channels, test and measure along the way. An example is below: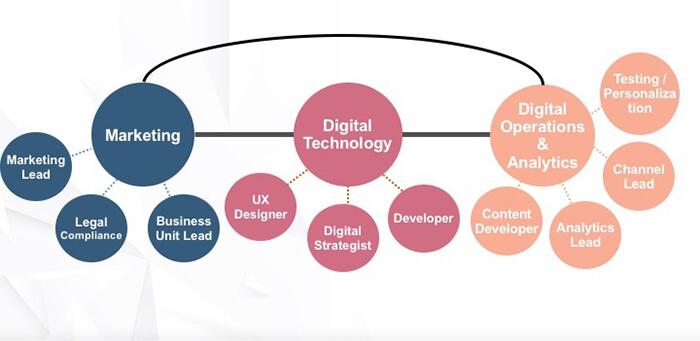 An example of a digital marketing team that has resources to operate across all channels a customer may like to interface with and factors in various requirements
One should consider creating a matrix organization structure that is cross-functional and designed to serve the customer use cases versus functional areas (marketing, brand, technology, analytics etc). The silo structure is not effective and cannot keep pace with the marketing evolution and the needs of the customer.
Leveraging one or more of the above can allow a marketing team to engage better with the customer and position themselves for success in the future.
I am sure there are a lot of ways to achieve the end goal, but the above have served me well and I'm hoping that they can help you as well.
Related
Our Digital Disruptors